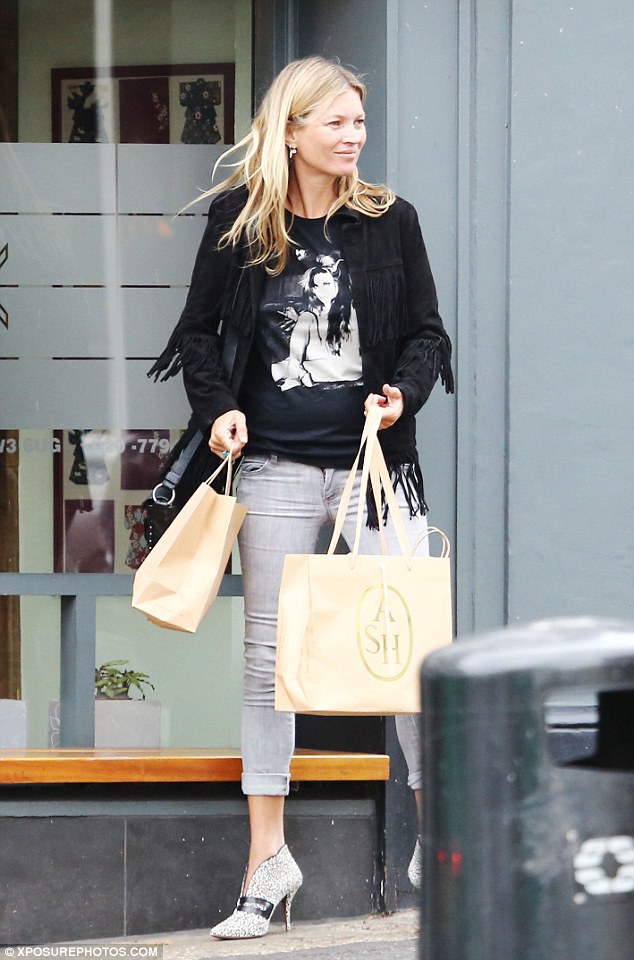 photo: XPOSUREPHOTOS.COM / www.dailymail.co.uk
Niagara tees and accessories make headlines...
See the original story with Kate Moss & Niagara:
Cause Célèbre
...more buzz from Detroit:
METRO TIMES: Kate Moss really likes Niagara
THE ASHETON HOUSE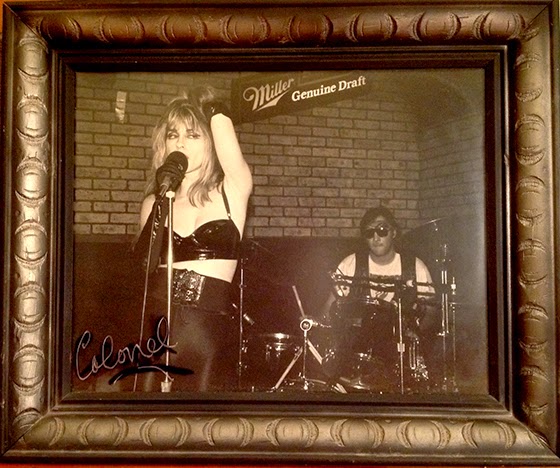 Scotty and Niagara in Dark Carnival at the Blind Pig 1990
(photo courtesy of Niagara)
If you ever had the nerve to be within Scott Asheton's force field, you'd have been stunned by his pale, BLUE eyes. He had a deceptively calm demeanor. Dangerous? Yes. You'd find yourself behaving very carefully. This was mid-70's, Ann Arbor.
Scott played drums with Sonic Rendezvous (Fred Smith-MC5, Scott Morgan-Rationals), at Second Chance, a ballroom/bar. Seeing him only made me (and FEW others at that time) miss The Stooges, since their disintegration years before. The last time I saw them: When Metallic K.O was recorded in Detroit.
Scott was a rock solid drummer. His friends called him "Rock." His tattoo said "Rock Action." Though he passed away in March 2014, people even now are intimidated by the memory of him. Some wrote me: "He scared the BEJESUS out of me." But his friends adored him. He was a liked guy. No one could stay mad at him.
We met in that club's dressing room. The Ramones also played that night. I wrote for a Parisian mag; "A Letter from Detroit" sort of thing. That summer of 1977, Ron Asheton returned from L.A. Finished with his interim, now defunct band, New Order (with Dennis Thompson-MC5). In the next few weeks, he became lead guitar for my band, DESTROY ALL MONSTERS. Up till then, DAM had been, a basement Art/Noise unit. DAM with Ron Asheton promised to be eccentric & somewhat dazzling to an expectant local music landscape.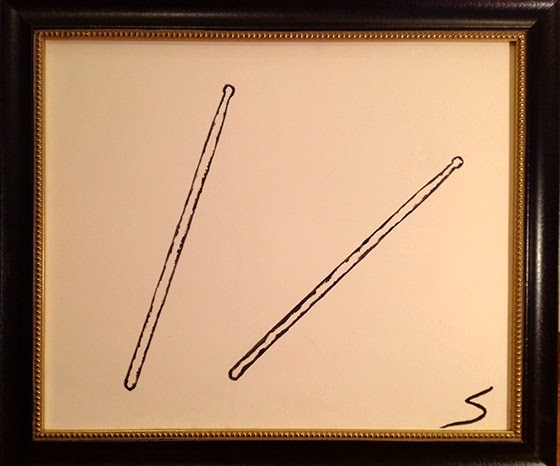 Scott's painting From the Funhouse show CPop 2004
(photo courtesy of Niagara)
Ron brought me to live at the Asheton House--Mrs. Asheton's house. Ann Asheton. "Ann My Ann's" house. Scott lived there too. The brothers were older than I... one of Ron's relations took to calling him "Humbert Humbert." At this point Scotty was not consistently looking for fights. He'd just put a friendly stranglehold around various necks.
Once at a bar, he flattened a patron for getting a little sloppy with me. It may have been his sense of loyalty. It may have been his sense of recreation. Ron had a saying: "The bigger the front, the bigger the back" Meaning whatever persona you're selling on the outside, it will be the opposite of what's on the inside. Your regular barroom guy (and also persons with any sense) would keep at a safe distance from Scotty.
At every event, whenever children were in Scott's vicinity they were drawn to him like a magnet. It was axiomatic. They recognized his child's heart. Ann Asheton was the head of meal planning for the entire Ann Arbor school system.
Our schedules barely overlapped. Then she'd return in the evening and plan dinner--though none of us ever ate together. She was capable of running a strict household... except that she had given birth to two Stooges so she had seen it all. One time there was no bread on the table. Scott questioned, "NO Buns? No Buns, my babe, No Buns."
When I first started living at the House, Scott would call out, "Niagara! Look out the window! What's that? It's a witch! What's she saying? You're gonna die!" ("Looking out the window and a witch flew by? Whipping her broomstick," she said, "You're Gonna Die, You're Gonna die You're Gonna Die, You're Gonna Die"--my lyrics to DAM's first single: Bored b/w You're Gonna Die)
Very funny.
The Routine: We'd sleep till late afternoon, and then went to our respective band practices. After practice, if there was a party, we'd inevitably meet up. During daylight hours, Scotty was often non-communicative, grouchy. But we were so busy, and life moved forward. But at night, refueled with necessary libations, he was charming. He was himself. If you found him at a party, you ALWAYS knew where to find him. He was static. He was anti-mingle.
Other times, we'd head for some club. Every current and upcoming Punk band traveled through Joe's Star Bar. When they became more famous, they'd play at the aforementioned, The Chance. We played the same circuit locally. The bands would want to meet us.
They would especially like to tell Ron that his guitar playing was their Holy Grail. It was said by EVERY band's guitarist. The braver ones were also excited to meet Scott. If we didn't go on to an after hours party, Ron & I would come home and continue cocktails. Scott would arrive a bit later. Ron would rock in the den (he was a rocking chair addict) which was open to the kitchen. Scott would begin gathering his one real meal... after hours of torturing the drums.
For kicks, Ron quietly would pursue the hobby of writing down everything Scott consumed. The lists cracked Ronny up, being so vast and varied, Scotty's appetite being creatively inspired by marijuana. He'd sometime stand in the kitchen, push out his stomach, pat it and muse: "... Yeah... I think I'm going to get me that jumpsuit." Ron and Scott were masters at turning nothing into a good time. Deep down they had the wounds of being kicked around. Ron really knew how to tell a story. Scott was more the one-liner type.
Though they remembered the good times in The Stooges, they could never forget the painful ones. Ron could transform anything depressing into an irony or a funny joke. They both had practice at that. Scott was even younger than Ron when they lost their father. He was an aviator in WWII who gave young Ron piloting lessons. The young Scott became a loner type, a rebel. They seemed so different, almost opposite.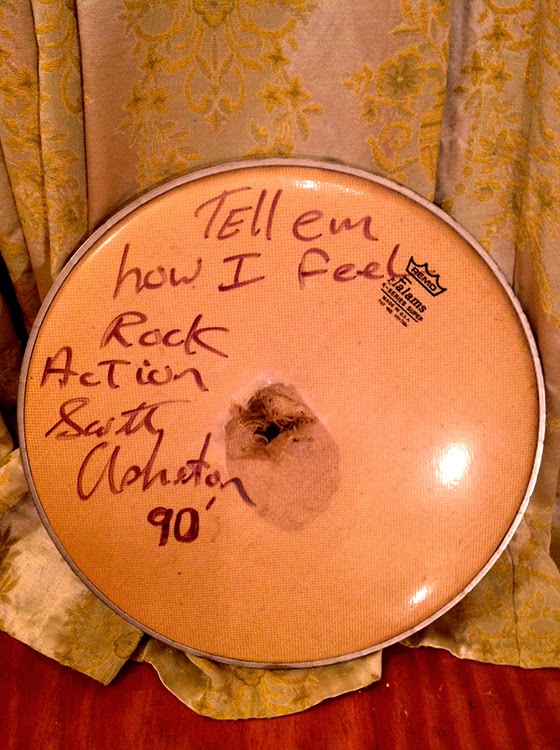 Scotty's Busted Drum Head (trashed after only 3 practices)
(photo courtesy of Niagara)
But their humor was interwoven. There was shorthand there, key words and verbal signals that were unexpected and unique only to them... and hilarious. If we weren't practicing, recording or touring the nights were ours. Ron and I would hang out in the den. The TV was on the one late night channel: "Cinema Sixty-Two."
The station had a rotation of three movies. The announcer had a lisp, so it was: "THINEMA THIXTY-TWO." Scott was up in his room watching the same thing. He'd come down at every commercial to convey some one-liner spoofing the film, or whatever. We'd never know what to expect.
Sometimes Scott would bring down a "priceless gem"--like show and tell--to entertain me. (His room was always locked, as soon as he went in or out). He had nothing really. But he'd make something of nothing. Once it was their high school year book (photos of Ron, none of Scott) with scrawling to Scott from lovesick girls. When I lived there, one woman wrote Scotty a letter or poem everyday. He'd leave these on the kitchen table, opened... and then, unopened.
Eventually Scott would tell me of a special movie that was going to be on. Something he liked, that he thought I would like. Tennessee Williams, Brando, a quirky, bittersweet love story. Really unexpected. Ron liked war movies and could answer every question on those egghead game shows. (Of course, both loved The 3 Stooges. Ron had EVERY one of them memorized by heart. Though you already knew that he was the one who christened "The Stooges").
Once there was a siege at the Asheton House. I don't know how it started. Scotty got his nudie mags and cut out ONLY ASSES and taped them up wherever Ron and I would unexpectedly stumble across them.on our bedroom door... the lampshades! Anywhere where it would be in our faces! It went on for a week at least. Whenever we thought it was over, we'd open the fridge and... ASS!
Meanwhile, just the rumor of a band called DESTROY ALL MONSTERS with Ron Asheton playing guitar had everyone buzzing. Our first show sealed the deal. We became press darlings. We traveled, played wild gigs, toured England. Ron and I soon moved out of the Asheton House.
In the mid-80's to mid-90's, I moved from Ann Arbor to front Detroit's DARK CARNIVAL. Ron joined soon after. Scott became the drummer. We practiced from where this is being written. On the wall hangs a Remo hard core drumhead... which Scott had busted through in no time. It's signed: "Tell 'em how I feel, Scott Asheton."
I can never go back to those days. But sometimes, they come back to me. Last night I dreamed that I was standing in front of the Asheton House. And light was shining from its windows.
"Cause Célèbre" by Kate Moss
March-2014 Vogue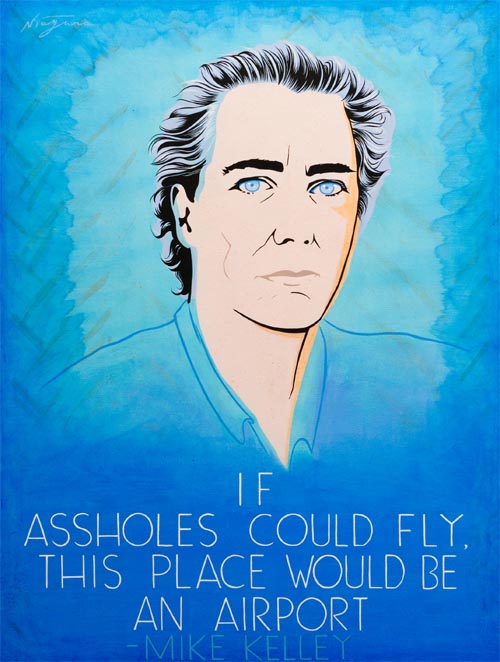 MOCAD Homestead: Mike Kelley's last homecoming
story by
Nicole Rupersburg
| model D media | 14-May-2013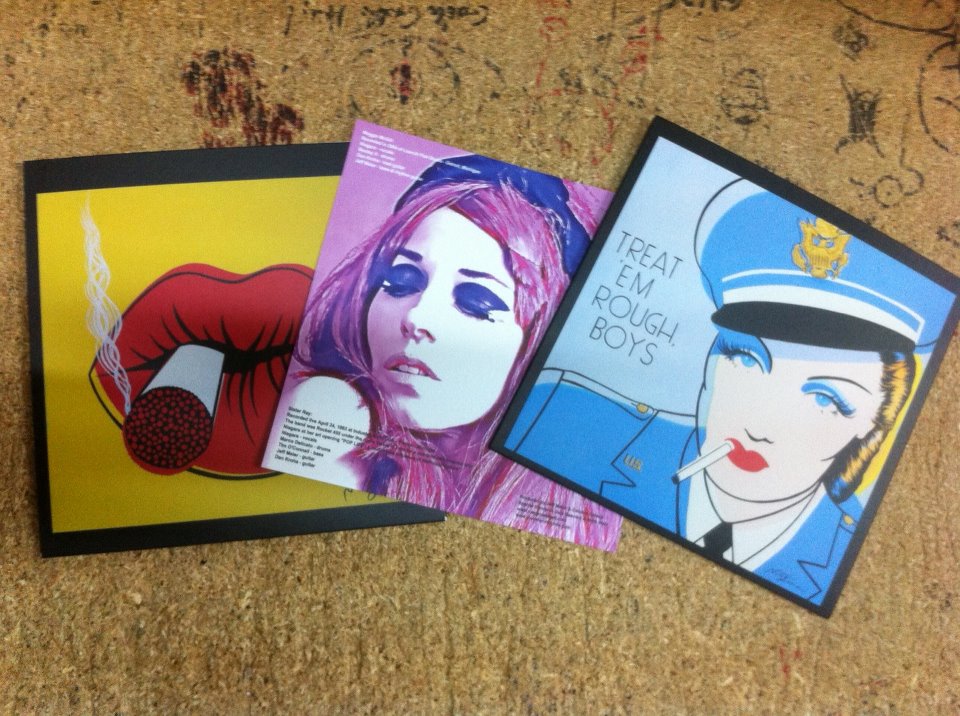 New DESTROY ALL MONSTERS & DARK CARNIVAL singles from Spain
(available soon...
contact us
for more info)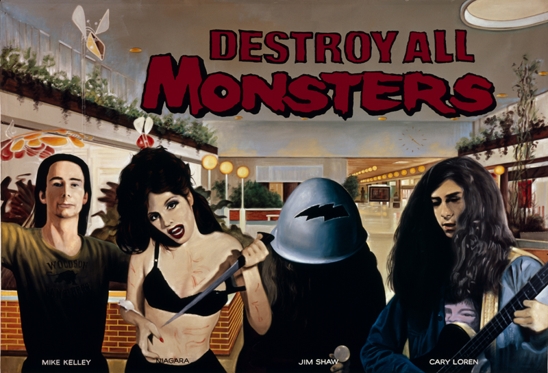 Destroy All Monsters, Mall Culture, Acrylic on canvas, 96×138 inches, 1 of 4 murals that comprise Strange Früt: Rock Apocrypha, 2000. Courtesy of the artists at PRISM.
Niagara & Destroy All Monsters at PRISM Gallery Los Angeles (see above Art Reviews)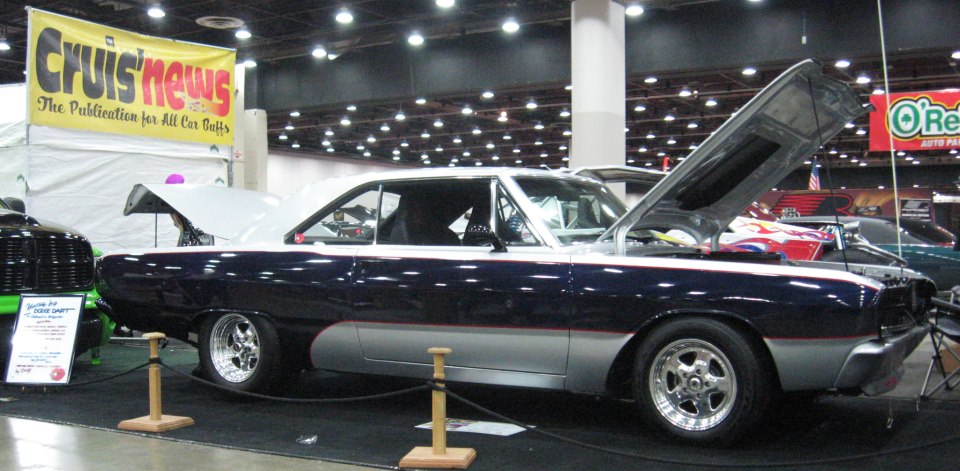 COLONEL GALAXY AND NIAGARA'S 1969 DODGE DART "HOT BOX"
presented in Detroit at the 61st annual
AutoRama
show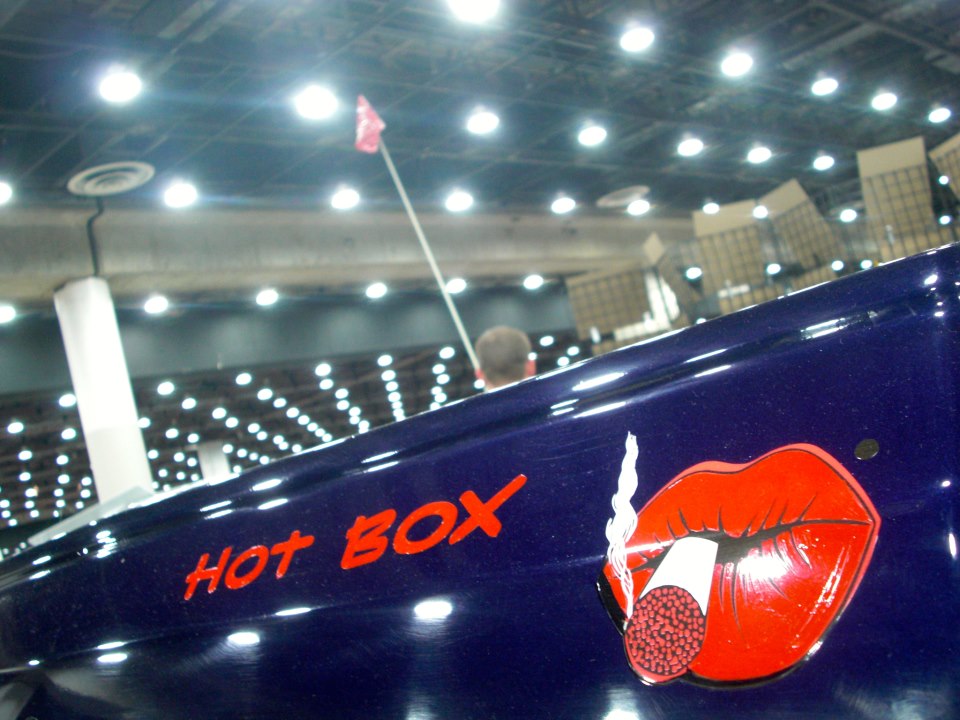 Niagra chose the shade of blue, and provided the artwork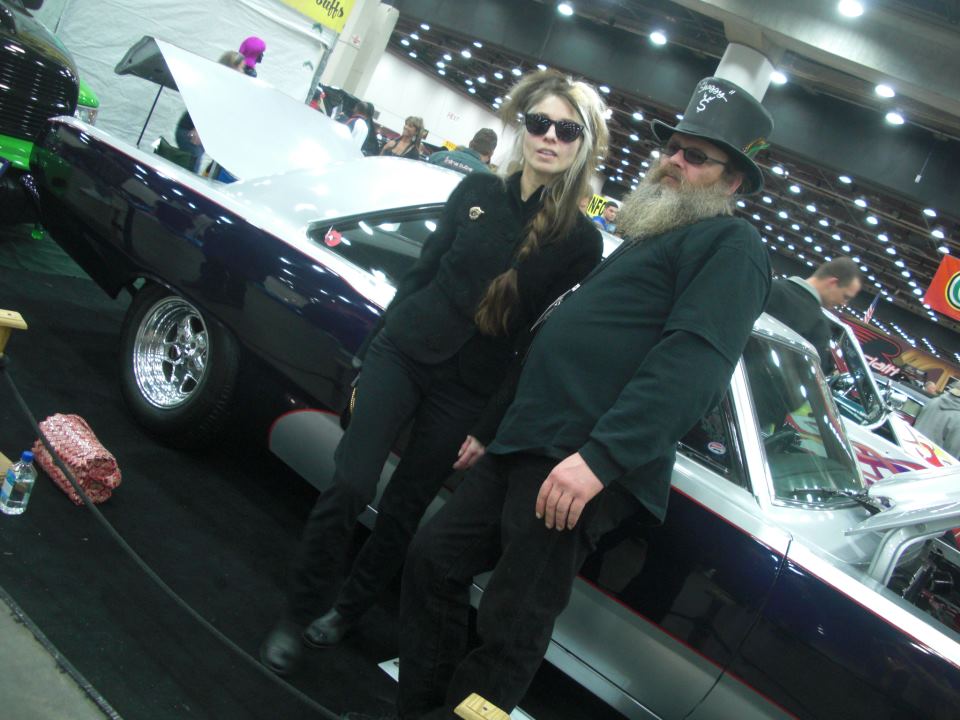 Niagara and Shaggy Leblanc of
Shaggy's Radicals
read & see more at retrokimmer.com...
Re: Brett Callwood's article on Niagara
(
"She Comes in Colors", Dec. 9, 2009
)
The first time I saw Niagara, was with the band DAM at "The Chance" in Ann Arbor, where she bit me on the top of the head! At a couple of later shows in Detroit, (at Bookies and at the Red Carpet), she jumped off stage and danced with me. That was probably the biggest boost to my ego in my life at that point. However, when I jumped onstage to dance with her at a later show at Todd's, she whirled me around and literally kicked me offstage with such force that I had a bruise that lasted for weeks.
Apparently Niagara has just such a like-hate relationship with local artists. On the one hand, take her continued presence in the area, when she obviously can afford to move elsewhere, this is proof positive that one doesn't have to move to New York in order to be successful in the art world.
However some statements such as, "It would be so much fun to have all the other artists here" (as if there weren't any here already), and especially, "You've got me and that's it in this town, ha" both of which appear in her recent cover story, are significant only in regard to her attitude, which seems awfully presumptuous. Not that this is exactly news to me. An artist friend of mine, who has had a Metro Times cover story himself, told me that, after having been introduced to Niagara at a local gallery, she told him that he was responsible for the destruction of a local landmark. Tact is not her forte, it seems.
All of this, of course, is stuff and nonsense. Some of Niagara's lyrics on the Destroy All Monsters singles, such as "You're Gonna Die", were a thematic precursor to Goth; who knows, she probably influenced Lydia Lunch and Texicali Jones. I still enjoy them, and I also like the reproductions of her artwork that accompany the article. I'm willing to bet that my aforementioned artist friend even liked it, and animosity isn't a one way street.
As a fair warning to anyone who attends her live shows: Don't get too close to the edge of the stage.
--Don Handy, Mount Clemens MI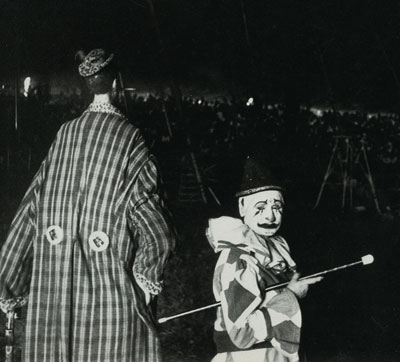 Colonel Galaxy offends midgets in Oz!!!
"...in Bondi Beach Australia we noticed there were all these midgets in the audience, who I decided right then that we needed for our dark carnival stageshow that night. How did I know that they did not enjoy being singled out when they were just trying to have a quiet night out with friends. In a Michael Richards meltdown moment I was calling them the 'little members' of our audience. Who knew?" -Colonel Galaxy
from Niagara's inbox...
SUBJECT: The Chance Shirt from 1981 Hey Niagara, I came across a shirt that I need some history on if all possible. The shirt reads "The Chance" and below it reads "Niagara '81." "The Chance" was a bar in Ann Arbor correct? Did you design this shirt/the bars logo? Any information on this shirt would be much appreciated. Thanks... CASEY Casey, The bar was the Second Chance , they used to call it "the chance", anyway the owner John Carver was always bugging Niagara to "create a logo." Niagara got John to agree to "unlimited drinks forever" in exchange. No sooner did John agree, when Niagara took out an eyebrow pencil and grabbed a napkin and jotted down the infamous scrawl , then ordered a Vodka Martini , the first of many in years to come. To his credit Carver stuck to the drink bargain & used the "logo" on the Marquee & all his promotions. The "Chance" was a famous "new wave" club that hosted many famous acts, DEAD BOYS, THE SONICS, PATTI SMITH & DESTROY ALL MONSTERS to name a few. Madonna was no longer a waitress there ... turns out the Punk crowd were not big tippers... Niagara Historian Colonel Galaxy
When Niagara and the Colonel visited the UK, it made the papers.
"'No! I'm not Richard Boone's son. ...some journalist asked me that jokingly cuz of the all-black thing, "the morning after the night before."'
Colonel galaxy eats a 'hotbox' lunch in the wee hours ...rumors that the Colonel is actually Richard Boone's illegitimate son with actress Anna Magnani 'is totally without merit' & according to the Colonel, 'Just one of those tabloid things that gets outta hand when some typhoid mary from some rag starts asking questions.'"
-- Manchester Confidental
"FUNHOUSE" Art Show at CPOP Gallery, Detroit --
A couple years ago, February, Niagara curated the "FUNHOUSE" Art Show at CPOP. Her initial idea was to have a show with musicians, so people could see another side of their "colorful" personalities. She started with all the borderline psycho musicians that she knew: Iggy Pop & The Stooges, The Melvins, Dee Dee & Joey Ramone (posthumously), Thurston Moore & Kim/Sonic Youth, Mark Mothersbaugh of DEVO, Kembra from The Voluptuous Horror of Karen Black... well, you get the picture: it was chaos from the get.
To complicate matters, the Stooges and Iggy wanted to know if they could rehearse their music in our practice room. Niagara, "Iggy had heard about the quasi-glamorous cement block dungeon beneath our house. It has that perfect 'dead sound' as Iggy put it. We said 'sure'. It was a perfect Detroit media frenzy. I even got Iggy the cover of Juxtapoz, the international Art Mag. I was upstairs on the phone constantly with the press and all the while hearing the Stooges playing live coming up through the heating ducts... it was surreal, I was time-tripping with "Stooge Radio."
Iggy had done a lot of large canvasses. Niagara talked Iggy into naming them the same as his rambling descriptions. (Amy Yokin bought one of the best ones, titled: 'Rock & Roll Bacchus: Self-Portrait'--while drunk after show in Bubble bath, Halloween 3 a.m., New Orleans, 2004). Now he wanted us to frame them...
Pat Slack, from River's Edge Gallery, was ready, willing and able. Iggy loved the beautiful thick, black laquered frames but he didn't want to pay the $10,000 bill. So he got Tom Thewes, the owner of CPOP, to pony up the money (plus Iggy's hotel bill). Pat cut Tom some slack...but Iggy was oblivious.
Niagara did the official silk-screened print of the event in that patented 60's "Grande Ballroom" style a la Gary Grimshaw. When it came time for Iggy to sign them, he balked. He was sitting in our living room, watching T.V. when Niagara told me about the impasse. He had told her, "Why should I sign art that I didn't do?" AND: "The people at Christie's auction house said signatures are worth more when there's less of them'!!!" I went round & round with him, until I cut the argument short by saying," For all that Niagara, CPOP and this town has done for you, YOU'RE GONNA SIGN THEM." He said, "...I see your point, I'll sign til' I drop, how's that?"
Well, the night of the show, the line to get in the madhouse was around the block, til late at night and in the cold of February. Iggy signed autographs, album covers, everything they threw at him. BUT again he refused to sign the posters. Ron And Scott Asheton signed and cajoled him, but no go. Jamie O'Shea, editor of Juxtapoz, said it was the thing to do, when Iggy asked his opinion. But still "No."
This time he was holed up in Tom Thewe's studio, upstairs from the gallery. I was pissed and ready for a showdown. Ron and I got into the elevator, when Ron's sister, who's not known for shyness, decided that she wanted to film this. I was on a mission and not in the mood for this discussion, so I shoved her out of the elevator. Davin Brainard came up and said brightly, "I'm coming up with you so I can meet Iggy!" "NOT NOW YOU'RE NOT," I growled. Nobody's ever seen Davin mad, but this was a night of many firsts.
I stomped up to Iggy and glared. He says, "Oh, man, not this guy again... where's those fucking posters, I'll sigh 'em all." So he did.
And we have the memory of those nights listening to the recordings that Warn Defever made of the Stooges in our basement... which still sound killer and hilarious to this day.
-- Colonel Galaxy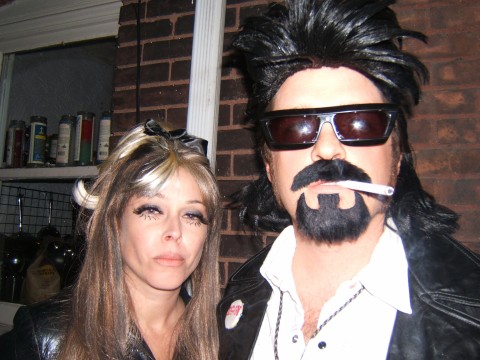 Dave Buick (The GO, Young Soul Rebels) and Julie Benjamen (The Fondas) dress as Niagara and the Colonel for Halloween.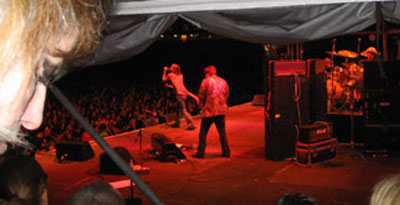 Niagara, determined not to be bored: watching The Stooges show backstage with Jack White and and Henry Rollins in Sydney Australia, she intentionally sticks her eye with a paintbrush...
browse more photos at

Read Niagara's bio on the
about page
.
Read about Niagara's musical exploits on her
music page
.